The cruise aboard the all-new MSC Seashore, which departs Miami in November 2022, has options of 16, 19 or 20 nights and includes a visit to a private island. MSC, Ocean Cay MSC Marine Reserve. paying off!

DT edition with agencies
—————————————————————————————————MSC seasidethe newest ship in MSC Cruises, will leave Miami, in the United States, visit eight islands in the Caribbean and four destinations in Brazil, concluding the cruise in Santos. The cruise departs from Miami on November 20 and will visit Ocean Cay MSC Marine Reserve, the company's private island in the Bahamas; San Juan in Puerto Rico; Charlotte Amalie in the US Virgin Islands; St. John's in Antigua and Barbuda; Phillipsburg, in St. Martin. Fort de France, in Martinique; Bridgetown, Barbados; and Port of Spain in Trinidad and Tobago.
According to the official statement from MSC, after a few days of sailing tailored for guests to take the time to enjoy all that this magnificent ship has to offer, the cruise will visit Salvador, Buzios, Rio de Janeiro and Santos, where your voyage will end on December 10. Guests can choose between 16, 19 and 20 nights, with access to Salvador, Rio de Janeiro or Santos.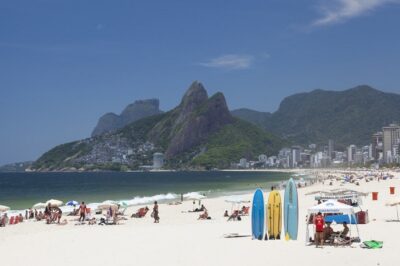 Discover the MSC Seashore – the largest and most modern ship in history sailing in Brazil
According to the shipping company, MSC Seashore is the first Seaside EVO-class vessel from MSC Cruises and is known for its innovative and exquisite design, which aims to connect guests more deeply with the sea. The ship offers new spaces, features and experiences, in addition to having the largest outdoor space in the fleet, with an area of ​​about 13,000 square meters, where guests can enjoy spacious outdoor spaces by the pool, and have a refreshing cocktail in one of the restaurants. bars, relax in the bubbling whirlpool or simply enjoy the sun and breeze on the balcony of their cabins.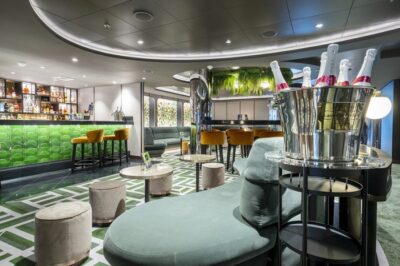 According to MSC, the MSC Seashore features 11 different types of balcony rooms and suites, six stunning pools, including a new interactive water park and an infinity pool at the aft of the ship, plus two infinity-edge whirlpools. In addition, the ship has several entertainment options, such as original theatrical performances, a disco, spa, gym, children's area and a wide range of bars and restaurants, including five specialty restaurants, such as Butcher's Cut, which has an outdoor area Located. On the stunning sea promenade. In addition to the Top 19 Solarium exclusive to Aurea Experience guests, with its elegant outdoor lounge, bar, shops and MSC Yacht Club, the ship's 3,000 square meter premium space.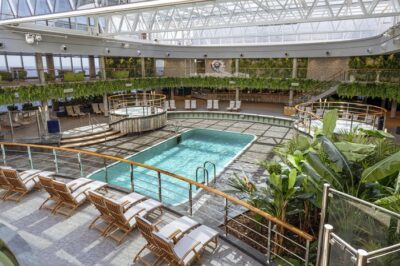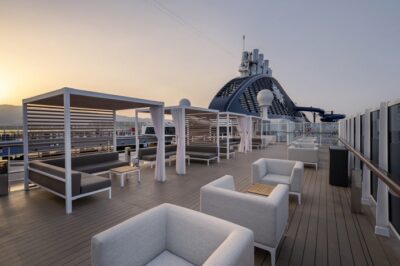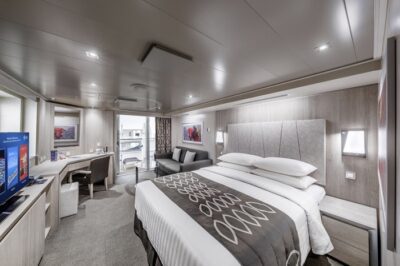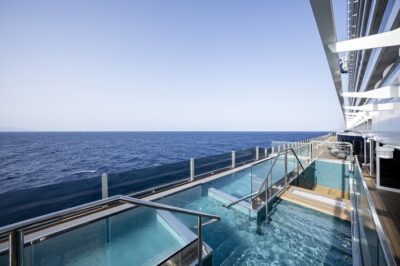 According to the shipping company, the vessel is equipped with the latest technology to continually reduce its environmental footprint and reduce its impact and ensure cleaner emissions to the atmosphere, including the latest Hybrid Exhaust Gas Cleaning (EGCS) systems, a state-of-the-art Selective Catalytic Reduction (SCR) system to reduce nitrogen oxide by 90%, and Advanced Wastewater Treatment System (AWTS) to give the effluents a very high quality.
Ocean Cay Marine Reserve
According to the shipping company, Ocean Cay MSC Marine Reserve, MSC Cruises' private island, aims to allow guests to experience the natural beauty of the Bahamas. The company, which was a former artificial sand mining site, has returned to its original condition, including restoring endangered coral reefs and implementing other conservation and education programs.
It brings guests a piece of paradise, with white sandy beaches where lounge chairs, umbrellas and cabanas await for a day relaxing and soaking in the vibrant spirit of the Bahamas while surrounded by sweeping views of crystal blue waters.
According to official information, the island also offers guests of MSC Cruises a variety of entertainment options such as water sports, excursions, shops, spas, and restaurants around the island. Since the ships are moored directly at Ocean Cay, guests can easily board whenever they want and return in the evening to enjoy the night's festivities.
According to MSC, on-site guests can take excursions to discover marine life up close, such as snorkeling and kayaking. Indulge in a luxurious spa treatment or relax in a private cabana; They can also tour an authentic Bahamian village with local arts and crafts made by local artisans; Dine at the Seakers Food Court included with your reservation, or at one of the six food trucks scattered across the island, and enjoy cocktails and other drinks at the island's many bars.
Check prices:
according to MSCPrices are in riyals and can be paid in a maximum of 12 installments, without down payment and without interest. The more you pre-book your cruise, the greater the benefits, including better fares, greater availability on board, and different options for disembarkation dates and cabin types.
MSC Seaside
Boarding: Miami, United States – 11/20/2022
an average: From R $ 7,269 per person (tax incl.).
Indoor double cabin accommodation, experience Bella.
To learn more, visit the website of MSC Cruises.

"Prone to fits of apathy. Problem solver. Twitter buff. Wannabe music advocate."